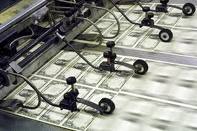 Print Money Legally!
Don't you wish you could print money? Well, you can! How do you do it? By being a Print Broker. Yes, a Print Broker.
Just what is a Print Broker, anyway? Webster defines Broker as: an agent who negotiates contracts of purchase and sale. A Print Broker is a person who provides printing, ad specialties and related services to businesses while acting as an agent for various commercial printers.
Now, you may be thinking 'I don't know how to run a printing press'. Well, no one has asked you to or said you have to. In fact, you need to know very little about the printing process to succeed as a print broker. That is the beauty of this opportunity. You can actually be involved in a trade without having to actually know the ins and outs of the trade itself. It is more important that you be able to communicate well, sell in a consultive fashion and pay close attention to detail.
Some of What You Need To Know
Now, you also must understand that there may be rules and regulations you have to follow in order to be 'in business' where you live. This is important and beyond the scope of this opportunity. However, let me say this, no matter what business you decide to enter into you are still going to have these things to contend with.
First, this is a business. So, you have to have the traits and skills to be in business for yourself. Now, this whole opportunity is not a how to be in business course. Sorry to be so blunt, but if that is what you are looking for then maybe you need to visit someplace else.
Having said that, if you are prepared to be in business for yourself and you are interested in having the resources necessary to be a print broker and provide print and advertising specialties to other businesses this may just be the right place for you.
So, as a given we will assume you understand what being self employed requires and that you are looking for the resources necessary to be a print broker.
So, What Does it Take
to be a Print Broker?
As a print broker you will not have to have all kinds of high cost equipment, you will not have to deal with the EPA because of the inks and solutions required to run a print shop and you will not have to deal with acquiring the knowledge required to operate presses, folders, cutters, plate makers, and all the other high tech, high learning curve machines that are required to actually produce printed materials.
That is all handled by the commercial printers you represent. They have all the expertise to do the production, all you have to do is determine which supplier is best suited to do the production, get the information required to be printed on the item, prepare a purchase order, send the order and the artwork to the printer and wait for it to be returned for delivery. Many times the printer will even drop ship the item for you. I like to deliver it, if possible, because that gives me another opportunity to sell something else to the client.
By being a broker you can offer all kinds of items that many print shops can't. Not every location can have every type of equipment and every type of employee to do every type of printing. In fact, most print shops have vendors that produce items they are not capable of doing. so, you night go to the shop on the corner and order T-shirts or pens and they will then play broker and farm it out to a vendor they use for that purpose.
So, even if you already own a print shop this directory would have great value for you as it can help you develop another revenue stream. Having run print shops myself I know many printers tend to ignore the ad specialty business and many times feel that if they can't put it on paper themselves then they don't want to mess with it.
I learned early on that I could not do it all and decided to farm out certain things in order to make money by providing them and sometimes I even farmed out things I could do because I could make more money letting a specialist do that and work on more profitable things in my shop. Business cards quickly became one of those items. I spent more time in make-ready than I did printing the cards only to make $10-$10 per 1,000 when I could farm them out and make $25-$30 per 1,000....duh!
So, brokering not only is for the stand alone business but can be an additional revenue stream for some one already involved in the printing business. The most important requirement for being a print broker is having the proper supplier to produce the item your client wants.

We Will Be Your Partner
Yes, a little knowledge about what the supplier needs to complete the project is valuable. However, just a little is all you really need. Your supplier has customer service representatives that understand all that and can help you get them what they need and ATD will be happy to assist you with that. As a part of our program you will receive one year's e-mail consulting absolutely FREE! After a few jobs you will know just what you need and the confusion and intimidation will fall a way. This is NOT rocket science!
Part of our opportunity is our willingness to consult with you about those technical things you may not understand about printing. In fact, if need be we would be happy to work with you on the graphics part of your business so you don't need to worry about artwork and setting up a job.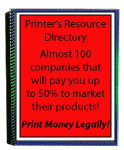 What is the Print Broker
Resource Directory?
Directory currently unavailable due to updates in progress. We hope to have a new version available very soon.
Sorry for any inconvenience! ATD Marketing
Our Print Broker Resource Directory is designed to provide you with the suppliers you need to be able to produce almost any type of printed item for your client. It contains the contact information of almost 100 commercial printers that work only through their dealer network and pay decent commissions, provide excellent customer service and will not compete with you.
Most will also provide you with quality printed catalogs and some electronic catalogs you can have for your use and to give to your clients. Many will not even charge you for them and some will imprint your information on the outside so it appears as if you are the printing company.
It also contains explanations of the codes that will tell you what % of the sale you get to keep. It is cross referenced so if some one asks for umbrellas all you have to do is go to the products section and find umbrellas, click on it and you will be taken to a list of suppliers that do umbrellas. This will save you and your client time and money.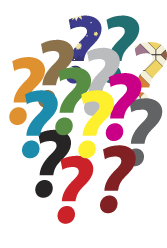 Questions,
You've Got
Questions!
Q: Is this a full-blown how to be in business course?
NO, this is a resource for some one who wishes to be a Print Broker or to add a revenue stream to an existing print business. It assumes you have the knowledge or are prepared to obtain the knowledge necessary to be in business for yourself.
Q: What does the Directory Include?
An alphabetical listing of almost 100 commercial printers who work only through their dealers.
All contact information required to contact these printers to set up an account with them.
A cross reference of products to suppliers.
Full explanation of commission schedules.
Basic Requirements for getting started.
Q: Who can benefit from having this e-book?
Some one who has the

desire

to be self employed.
Some one who can take

action

on his/her desire.
Some one who has the

intestinal fortitude

to go out onto the street and conduct direct sales calls.
Some one who has a

secure sense of self

and a little sales experience would not hurt.
Some one who is

already in the printing industry

but needs to expand the customer base and the offerings available.
Some one in the

advertising industry

who wished to be able to offer printing services along with ad placement.
Possibly YOU!
Q: Do You have to join any organizations?
NO! Many suppliers will ask for your ASI Number. ASI stands for Ad Specialty Institute and it is an organization of Ad Specialty Suppliers and Providers. You may join this organization, if your business qualifies, but you are NOT REQUIRED to do so to be a dealer.
I have been doing this since 1984 and have never belonged to ASI. That is your choice to make. I do belong to other Organizations but only because I feel they benefit me. You choose what you wish to join and your ability to be a dealer for these suppliers is not dependent on your belonging.
Q: What all comes with this e-book?
You get the Printer's Resource Directory, Blair Warren's One Sentence Persuasion Course, a $97.00 value, and Napoleon Hill's Classic "Think and Grow Rich" a $147.00 value and our 30 day money back guarantee.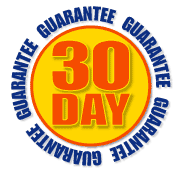 If for any reason you find you cannot become a dealer for these companies without fees or joining an organization you may request a full refund of your money and we will issue it no questions asked.
So, what would one have to invest to own this valuable resource? Less than one might expect! We have invested over 25 years in the printing industry and have found these companies to be dependable, helpful and loyal to us as their dealer so we could ask $100's for the information. But we won't! You can have this valuable information along with Blair Warren's course and the invaluable, classic "Think and Grow Rich" e-book for just a
one time investment of $97.00 NOT! Just $47.00!
We make no guarantee of how much you might make as a print broker. That depends on too many factors for us to control. We have made good money doing this and know if you use these suppliers and take the action necessary you too can make decent money while helping those in business succeed.